Free 777 Burn 'Em Up Slot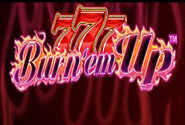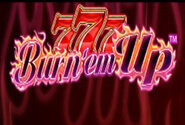 Elaborate and epic themes have become the norm for slots. As technology advances, developers have the ability to create some beautiful graphics, and to truly tickle our imaginations! But sometimes, you don't want to bask in some grand tale. Sometimes, all you want are some pretty visuals, a fun special feature, and a satisfying jackpot. And this game delivers on all of these fronts.
A fiery border separates the reels from the background image, but can also be found between each reel. This release is played on a 5-reel, 3-row playing field with 10 fixed paylines. There's only one bonus: a free spins round, during which lucky seven symbols can upgrade and improve their cash value.
As a result, 777 Burn 'Em Up slot machine is great for more nostalgic players and for those who want their slots simple and lucrative. A 5,000x top prize awaits the most dedicated gamblers!
Free 777 Burn 'Em Up Slot Machine
Why to play 777 Burn 'Em Up Slot
Fruit machines don't usually look that great. But most fruit machines aren't this game! The flaming background looks cool, though it seems the real fire is beneath the reels. How terrifying those flames must be is left to the imagination. All we see are the flying sparks coming from beneath, and the flicker as the flame shifts back and forth.
Upgrading symbols as a special feature isn't something done too often, so Barcrest's latest slot machine wins some brownie points there. And while this bonus won't help you land the jackpot, it will undoubtedly boost your wins. But you can't always rely on it. After all, the upgrades are only active during the free spins special feature.
So long as you bet more than $2, you can count on an RTP of 96% – perfectly safe and average.
Why not to Play?
777 Burn 'Em Up has just that one bonus. And while we enjoyed it, we also got bored with it eventually. If there was another special feature to break up the monotony, that wouldn't be that big of an issue. But with no extra bonuses, this game failed to keep us engaged in the long term.
On the flip-side, if you're a more casual player, and bet less than $2, your RTP will be set to 94%. This is two percentage points below the average, which makes this release not worth it.
Bonus Features
There's only one special feature here, we're afraid! And while it's undoubtedly fun at first, the novelty wears off at some point.
Free Spins and Upgrading 7's
Collect three, four or five Scatters to win twelve, eighteen or twenty-four free spins, respectively. It is possible to retrigger the extra turns by collecting three or more Scatters. The special feature ends when no more free spins remain, or you win the 5000x top prize. During free spins, all sevens that are part of the winning combination will be upgraded. The way it works is that the slot will check all sevens icons, and determine the most valuable one. After that, all sevens symbols will be transformed into the most valuable icon. Great for scoring medium-sized wins here and there!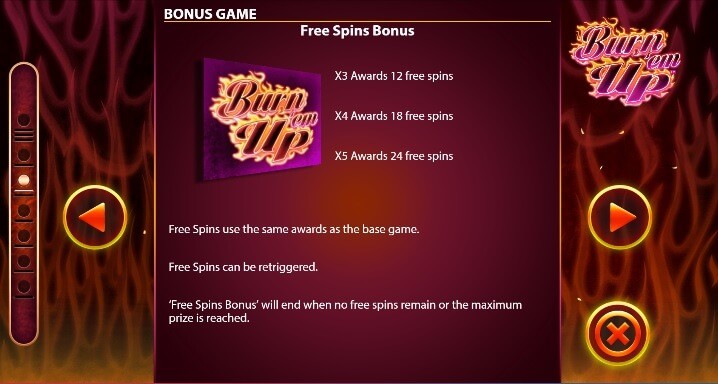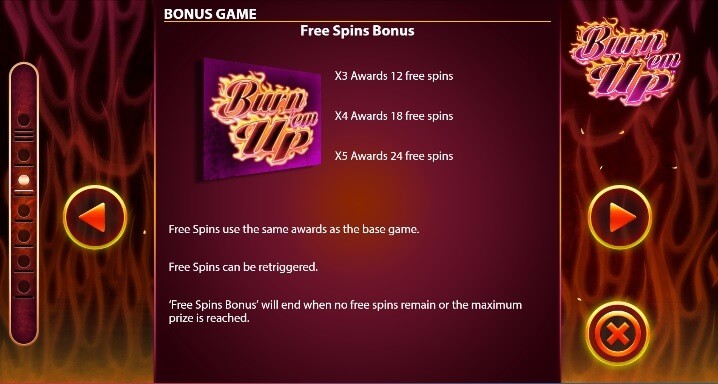 Our Verdict
777 Burn 'Em Up is a game we initially liked but grew cold towards as time went on. It was a nice change of pace from the vast majority of releases we play right now. But after a while, it got stale for us. It has cool graphics, but we've seen beautiful renditions of fruits a lot of times. And with just one special feature, it got boring real fast. Not to mention how any bet below $2 gets you a lower than average RTP.
It's good for an evening or two of fun, but we doubt it'll be anyone's long term favourite.
Free 777 Burn 'Em Up Slot
was last modified:
February 24th, 2021
by