Media Rights Capital (Netflix) Sued over House of Cards Slots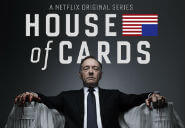 Just few days ago gambling giant IGT introduced House of Cards slots in their social DoubleDown Casino. The plan was to launch real casino slots as well, "Power and Money" and "House of Cards Welcome to Washington". These were supposed to follow IGT's recently released Breaking Bad and Ellen's Slots.
However, we are not sure those we will be able to enjoy those games since Media Rights Capital is being sued by a Massachusetts based company D2 for the use of "House of Cards" mark.
Apparently, D2 registered the trademark in 2009 for its radio show and have the license to use it in gaming. According to their claims, Netflix tried to register the trademark later on in 2013, but were denied.
We all know how Francis Underwood would handle the issue, but unfortunately he is not here to help. So we will have to wait and see what happens with those two highly anticipated slots. Our guess is that it's not a problem that few million dollars would solve.
For most exiting slots to launch in 2016, please check our New Slots 2016 page. Some of them you will be able to play for free here.
Media Rights Capital (Netflix) Sued over House of Cards Slots
was last modified:
February 24th, 2021
by