Online Gambling Next Stop – Smart Watches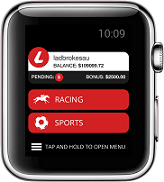 20 years ago a first online casino went live. 10 years ago the casinos moved to mobile. Now, it's time for Smart Watch casino and slots…
Ladbrokes, UK Betting powerhouse, announced that they have received Apple's approval of their new Apple Watch betting app. Thus, they became the first betting gambling company to be granted Apple's approval.
Ladbrokes Australia CIO (chief information officer) Scott Hutchens told Horseracing.com.au that the Apple Watch extension "communicates with the main Ladbrokes iOS app and will enable customers to actually bet directly from their wrist." He was specifically proud of "it is unprecedented design and the simplest betting interface in the world." Surprisingly, according to his words, it took Ladbrokes less than a month to develop the app. The new app is ready and can be found in the App Store, waiting for long anticipated launch of the Apple Watch.
Currently, the app allows only sports and horse betting. However, we believe that it's just a matter of time till we see more online casinos move in this direction and launch smart watch casinos apps. It's hard to believe that it will be possible to play slots on a screen of this size, but Blackjack, Video poker and even Roulette, can work quite well.
So…..What's Next for Online Gambling?
It's hard to predict the future, especially in highly technological areas such as online gamlbing, but my bet is that the next major development in online casino industry will be augmented reality casinos. Imagine, casino app for glasses, that will turn your living room table into a real blackjack table, with live dealer, live players and real casino environment.
Online Gambling Next Stop – Smart Watches
was last modified:
February 24th, 2021
by