Swinging Sweethearts Slot Test | New USA Slots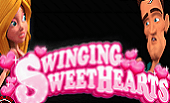 Decided to check the new Rival Swinging Sweethearts slot. Made two separate sessions, one at Cashalot casino and one at Tropezia .
The bottom line: I ended even in both sessions. The funny part: both times, within 5 spins I went x5, winning $550 in Cashalot and $300 at Tropezia. However from this point on i barely hit a thing…
My main impression of Swinging Sweethearts is that it's extremely simple slot machine. For good and for bad. Some of Rival slots have multiple bonus rounds, bonus games, free spins, levels and more – Reel Crime slot is a good example. That's not the case here. The only bonus feature of Swinging Sweethearts is the free spins, which can turn in to Swinging free spins. The Wild multiplier is cool and can pay out nicely – that's what happened in both of my sessions. During the free spins the multiplier goes to x8 (from the regular x4) and if you reach the Swinging free spins it goes up to x12. Unfortunately, i didn't manage to trigger the free spins feature to test it. Maybe next time…
Swinging Sweethearts Slot – Conclusion
It is a nice and very simple slot. Good for after work hours, when you just want to hit "Spin" without thinking too much.
Swinging Sweethearts is available at all Rival casinos. The best option for US players is Slots Capital casino and Tropezia casino for EU/AUS/CA players
Here you can find full Swinging Sweethearts slot review.
Swinging Sweethearts Slot Test | New USA Slots
was last modified:
February 24th, 2021
by