Barnyard Bonanza Slot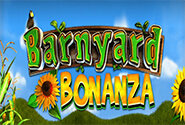 Barnyard Bonanza is a farm-themed slot game by Ainsworth, an Australian developer that usually offers online the same titles they develop for land-based casinos.
Barnyard Bonanza slot is developed for online casinos only, therefore it features some of the best graphics you can find at Ainsworth online slots, a nice free spins game which has five variations and awards random mystery bonuses, and, sadly, a very low payout.
Free Barnyard Bonanza Slot
Graphics and theme
Ainsworth went a bit overboard with graphics for Barnyard Bonanza as each symbol has rich artwork, and so does the background, and so does practically everything. While each individual symbol is in high resolution and vivid color, as a whole, it's difficult to recognize symbols. The card symbols are a bit too loud so the main symbols don't stand out as much as they should. But, it's detailed crisp graphics and it's colorful, it's not bad at all. But it will work better on a bigger screen where more details will be visible.
Base game
Barnyard Bonanza slot machine has 20 compulsory paylines and bet per spin can range from €0.20 to €2,000.
There are six card symbols and five symbols with artwork: Barn, Scarecrow, Pig, Horse and Cow. Chicken is the Scatter symbol, and Farmer is Wild. Scatter and Wild also pay, and Scatter is by far the best-paying symbol in the game, Wild being second-best.
Paytable is not too bad as the low-paying symbols don't pay that little compared to the good ones, though the paytable gets a significant reduction during the free spins game.
Bonus feature
When you land three Chicken Scatters anywhere on your reels, you'll trigger the free spins game and before it starts you'll be given five options to choose from. You'll get 14, 13, 12, 11 or 10 free spins based on the symbol which you choose to be stacked during your free spins: Barn, Scarecrow, Pig, Horse or Cow.
All five options are very rewarding. Also, when you land Golden Egg anywhere on your reels, you'll either get a mystery bonus or will be awarded 1, 2 or 3 extra free spins.
Payout and value
Barnyard Bonanza has the theoretical return to player (RTP) of only 93%, which is low even in Ainsworth's standards (and of course in comparison to some of the best online slots).  This game is still a step in the right direction for Ainsworth though, as they developed an online-only slot game and have designed quality graphics and a rewarding free spins game. Plus the variance is on the low side, you can play this one for a while without losing a significant portion of your bankroll.
It's a fun game and it will appeal to slot game players who aren't necessarily looking for a classic slot. Eventually, you do notice it's a classic slot without many extra features, but a well-made one. It has good graphics and a fun and rewarding bonus game. Many players will be happy with that, and they don't even necessarily have to be Ainsworth fans. A good slot game to pass the time.
Barnyard Bonanza Slot
was last modified:
February 24th, 2021
by