Chinese Treasures Slot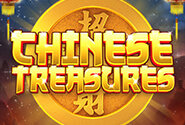 Despite being one of the oldest known civilizations in the world, China has seen its fair share of internal conflicts. It would reunite, become powerful before war split the great country once more. And in such anarchy, it would only be fair for us to snag a few treasures. Purely for safekeeping purposes, of course! Somewhere far, far away from the war. Like, say, in the balance of our gambling bank account!
Two crimson lanterns serve as a cool split between the reels and the background image. The slot is played on a 5-reel, 3-row playing field with 20 fixed paylines. Available special features include free spins, a Wild with a 2x multiplier and a Wild creating Dragon!
The glimmer of gold and valuables make for a tempting call for the most adventurous among us. If you decide to undertake the journey, we wish you good luck and many wins!
Other popular China Themed slots include Wild Panda, Quick Hit Sun Dragon and Dragon's Luck by Red Tiger.
Free Chinese Treasures Slot
Why to play Chinese Treasures
This game finds that good balance of being simple to play and not being completely barren when it comes to bonuses. There are three special features you can trigger while playing this Red Tiger casino slot, after all! And yet, they're not the sort of bonuses that demand you open a paytable so you have an idea of what's going on. Kudos to the developers for pulling it off!
We really like Chinese Treasures slot machine math model. First and foremost, it has an above-average RTP, sitting at 96.22%. So it's not mind-blowing, but still praiseworthy! Especially if you combine it with this slot's jackpot, worth 1544.6x your total stake. Of course, achieving anything close to that kind of prize without free spins and Wild multipliers is next to impossible. So cross your fingers and hope you find them quickly!
Visually, the game is alright. We like the background and some of the symbol designs, which help sell the atmosphere. That said, we do have a few nitpicks.
Why not to Play?
Our main gripe with the graphics lies in the animations; or lack thereof. We failed to find any animations that captured our attention, which brought our overall impressions down a little bit.
And with such a good RTP and jackpot, it's no surprise that this release comes with a medium-high variance. This will price out a lot of casual players, which we're not huge fans of.
Bonus Features
Simple but lucrative special features are the bread and butter of slots! You'll need these bonuses if you're gunning for the top prize. So if you've wagered, let Chinese Treasure show you its treasures!
Free Spins
Collect three Free Spins icons anywhere on the reels to win the extra turns. It is possible to win additional free spins by finding three Scatters while the existing extra turns are being played. Oh, and did we mention that all wins during free spins are doubled in value?
Wild
Beyond its usual role at substituting for any icon that isn't a Wild, this symbol can also double any win it is a part of. And yes, you can combine this with the 2x multiplier from the free spins, allowing you to score even better prizes!
Dragon
Last, but not least, is the Dragon! When it appears, up to three reels will be turned into Wild symbols. This doesn't guarantee a win, but if you manage to get three Wilds, your odds drastically improve.
Our Verdict
Red Tiger has the game's atmosphere nailed down perfectly. But there's no denying all Chinese Treasures slot visuals feel a bit old and outdated compared to what's on offer. Fortunately, gameplay and a good math model swoop in to save the day! An above-average RTP, a satisfying jackpot and engaging special features were all instrumental in ensuring a positive score for Chinese Treasure.
Give it a try, you won't regret it!
Chinese Treasures Slot
was last modified:
February 24th, 2021
by