Devil's Delight Slot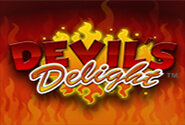 NetEnt's style has changed drastically in the last 5 years, which is why their Devil's Delight slot can come as quite a surprise to those who are not familiar with the developer's entire opus.
Taking you straight to the center of Hell where the devil himself resides, Net Entertainment introduces some pretty questionable (yet amusing) bonus features and sinful symbols. Triple 6, Tombstones, and Pentagrams are not really what you would expect to see when you start spinning the reels, regardless of the name of the slot. If you find this shocking, just wait until you unlock the bonus round…
The game is played at 5 reels and 20 adjustable paylines, with a betting range of $0.01 to $100. There are 10 betting levels (manually selected) as well as the Max Bet option which will maximize the number of lines and increase the betting level in a single click. To the right, Feature Preview tab is displayed, offering a sneak peek at the slot's bonus game.
The estimated return to the player percentage is quite high – the extended game-play can generate up to 97.6% RTP, making it one of the loosest slot machines online.
Free Devil's Delight Slot Machine
Details
Software: NetEnt        Reels: 5
Paylines: 20                Coin Value: $0.01 – $0.50
Wild: Yes                    Scatter: Yes
Free Spins: Yes          Bonus Game: Yes
Multiplier: Yes             Gamble: No
Who Is It For?
Anyone looking for a good time and high return! The choice of symbols and the structure of the bonus game might be considered as distasteful or even offensive, but let us remember that this is, after all, a slot and the theme is supposed to be edgy and unique. The Triple 6 is a bit excessive, though…
The forth-mentioned 97.6% RTP is another reason for Devil's popularity, making it #6 on our Best Netent slots list.
Why Is It So Good?
Sin is always sweeter than virtue! Apart from the naughty theme and reel background, the bonus feature is definitely what sets the game apart and you are bound to have a lot of fun matching the deadly sins with the sinners in the Soul Reaper Bonus game.
Every successful match will result in the sinner's horrible death, but, on the upside, you will get to harvest their souls and fill your soul meter placed at the bottom of the gaming screen. Once your soul-o-meter is completely full, Sin Spins will be activated and 15 extra spins set in motion. The payouts in this bonus round will depend on the betting level.
Scatter Pentagram icon combination unlocks Free Spins and if at least two more Pentagrams appear on the reels during the bonus rounds, multipliers or additional spins will be awarded. An extra perk is that the danger of losing your souls is minimal as they will remain preserved in the meter for two more days.
Devil's Delight is a medium volatility, which means that you will not have to sell your soul to the devil for a winning combination to land on the reels.
Why It's Not
Pick and Match generates lower rate payouts and one would think that souls would be rated at a higher value. On the other hand, one can argue that the primary goal here is to collect the souls, which will activate the Sin Spins, a feature that produces far better payouts – especially if you are playing with maximum bets.
Bottom Line
NetEnt was pretty daring with the selection of theme but controversial doesn't always have to be bad. With Devil's Delight, the thin line between comical and inappropriate is not crossed (not all will agree, of course) and even the Pick and Match feature, as morbid as it is, could be regarded as absurd more than anything else. Overall, Devil's Delight leaves an impression of a harmlessly wicked slot with an adequate hit frequency.
Devil's Delight Slot
was last modified:
February 24th, 2021
by