5 Great Star Slot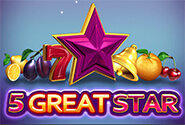 5 Great Star is a classic slot (although it is a new release launched in 2019) that takes players back to the era of physical machines. Back when you had to wait your turn on the machine, grumbling the whole time. When we smashed buttons super hard for luck and swore that the owner rigged the machine. Now that we think about it, we can do without returning to those dark ages. But if you feel like revisiting a fruit machine, 5 Great Star is as good a game as any!
The user interface makes it clear that EGT tried to copy the physical machine design. You have a standard 5-reel, 3-row playing field with 5 fixed paylines in total. There is only one bonus, which grants one of the four progressive jackpots randomly after a spin finishes.
As usual with EGT online slots it brings the experience of playing a land-based title straight to your device of choice. The only thing you need to do is pick your favourite, and go wild!
Free 5 Great Star Slot
Why to Play 5 Great Star Slot
Every time we play an EGT release, we leave with a craving for fruit. Their artists have drawn plums, oranges, cherries and lemons so many times, they could do it with their eyes closed! The rest of the icons also look nice, but lack the juiciness of the fruits.
Each spin has a chance to grant the progressive jackpot. At any time, gamblers can simply look up from the reels, and see the prizes that await them. If you succeed in triggering the special feature, you are guaranteed to win at least one of those four.
Why not to Play?
Apart from progressive jackpots, this slot has no other bonuses to offer players. The prizes are quite good, but difficult to hit, so you can expect a lot of bland spins. There is a reason the games with progressive jackpots released today come with a few bonuses of their own. Nobody wants to click one button over and over again until their brain turns to mush.
There is also a distinct lack of interesting animations on the reels. There is no cool background image or a theme of any kind. Considering EGT has been making nothing but digital fruit machines for a while now, we cannot help but feel disappointed.
We were unable to find any RTP information for this slot. Because of that, we cannot recommend playing it. We learned not to trust games that obscure this information and until EGT reveals the RTP, gamblers should stay away.
Bonus Features
5 Great Star only has one special feature: the four progressive jackpots.
Progressive Jackpots
After a spin finishes and all wins are granted, there is a chance the progressive jackpot bonus activates. Players are taken to a separate screen where they pick between twelve cards. The first three matching card suit symbols will reward the corresponding progressive jackpot.
Our Verdict
After playing this slot for a little while, we really cannot say we like it. The lack of content feels awful, and spinning aimlessly in hopes of winning the progressive jackpot is just not fun. It feels like EGT has been making the same game all the time, with only minor changes here and there to make it feel fresh. Do yourself a favour and skip 5 Great Star – it would not be worth even a single star, let alone five.
5 Great Star Slot
was last modified:
February 24th, 2021
by