Free Dragon's Luck Slot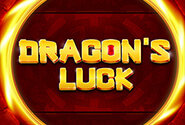 The aforementioned dragon statues coil around the shrine's pillars, serving as a border between the reels and the background image. You play this slot on a 5-reel, 3-row board with 10 fixed paylines. Special features include paying from any position, dragon coin mystery symbols and the Dragon's Help.
If you think you have what it takes to earn the blessing of the dragons, then you better start spinning! After all, that awesome top prize won't win itself!
Other popular China themed slots: Choy Sun Doa and  China Shores slots
Free Dragon's Luck Slot
Why to play Dragon's Luck Slot
We're suckers for a good background image, and boy did Red Tiger deliver! The slight mist obscuring our view looks gorgeous and makes the mountaintops you can see that much cooler. The visuals sell us on the idea that we're in the middle of nowhere, with no one to turn to or call for help. It's us against the reels, and we're not going to let them beat us.
The developers might be slightly biased towards us humans since this release is great for our pockets. The 1380x jackpot is quite satisfying, and even better, comes with a 96.24% RTP. This is better than the industry average of 96%, though not by much. That's is quite usual for Red Tiger slots, and so far it hasn't diminished their popularity. Of course, to actually achieve that kind of top prize, you'll need a lot of luck. But that's what slots are all about, no?
And while all the bonuses play an important part, the mystery coins are easily our favourite. The amount of time we were able to pull through with a win because of their help was more than we can count.
Why not to Play?
If you're the type of player who doesn't like mystery icons, you won't like much to like in Dragon's Luck. After all, every bonus save for one revolves around the dragon coins, which are entirely random on which symbol they'll become.
We liked the background image and the reel decorations, but we're not big on the actual icon design. We understand the style Red Tiger was aiming for, but it's just not our cup of tea.
Bonus Features
Luck will be a key factor at whether or not you'll stay as a winner, or leave with your pockets empty. But if you're feeling bold and fortunate, you have these bonuses to look forward to.
Dragon Coin
This golden coin usually appears in groups, but we have seen exceptions. Once all the coins land, they will rotate to reveal a symbol from the playing field to fill in for them. All coins will always display the same icon.
Dragon's Help
The two stone statues on the side may look cool, but they also serve a function! When dragons on either side wake up, they'll spin the coins again for bigger wins.
Mega Coin
Every now and then, you'll be able to see this huge, 3×3 symbol appear on the board. The end goal is to ensure a big win appears and that happens almost all the time. Kind of hard to miss a win with so many of one symbol on the board, unless you're super unlucky.
Paying from All Positions
Rather than just awarding wins from left to right, Dragon's Luck can grant them from anywhere. Not just left to right and right to left, either! We've seen three-of-a-kind wins which are entirely in the middle, not connecting to either edge.
Our Verdict
We could go on and on about how fantastic the visuals are, or how satisfying the jackpot is. But we've already covered all of this in the review! It has a few minor flaws, but those are minuscule compared to the benefits it provides. This slot has our seal of recommendation. Go ahead and give it a go!
Free Dragon's Luck Slot
was last modified:
February 24th, 2021
by