Laser Fruit Slot
When we first heard of the title, we had something much different in mind. Sadly, our dreams of world domination with fruit flavoured laser weaponry will have to wait. In the meantime, we get a stylish slot where each symbol is made out of eye-catching neon. The particularly valuable icons even have full symbols attached to them, with just a neon outline around them.
The background is completely black, so there's no border between it and the board. The game is played on a 5-reel, 3-row playing field with 243 ways to win. That said, one of the special features of this release is for the reels to grow in size and number of active paylines! There's also a free spins round which keeps expanded reels locked in place. The expected return stands on 96% which is the common value Red Tiger casino slots offer.
So, if you're ready to embark on a thrilling and hopefully fruitful adventure, you've come to the right place. Come and join us as we roam the neon-lit reels in search of big prizes!
Free Laser Fruit Slot
Why to play Laser Fruit Slot
Honestly, we can't say we're particularly blown away by any part of the graphics. But there's no denying that this slot looks really cool, thanks to the dark background and the neon glow of each symbol. Red Tiger Gaming went one step further and made the border around the icon match its dominant colour. Great to distinguish between each symbol, and makes the reels more colourful as they spin.
This game comes with high volatility and a promise of a 10,485x jackpot. Now, we don't know about you, but that kind of top prize immediately gets us interested! And while it's possible that you'll win it, it is important to keep the high variance in mind. This release has been purposefully designed to keep you playing long-term in hopes of scoring the top prize. If you enjoy that kind of gameplay, then you'll love Laser Fruit!
Having an expanding playing field as a special feature isn't something you see every day. Without free spins, the expansions aren't permanent, so scoring substantial wins can be difficult. Still very much worth it, in the end, considering the 10,485x jackpot!
Why not to Play?
Don't get us wrong, we like the pitch-black background. It's perfect for making the neon symbols stand out even more. But the developers could have added something beyond a few barely visible geometric shapes to it. How cool would it be if the neon glow illuminated parts of an object we couldn't make out?
Bonus Features
So, how does the entire process work, exactly? We're glad you asked, dear reader. Let's get in-depth with the expanding playing field, shall we?
Expanding Board
If the Neon Blue laser lands on the board, it will expand the reels either up or to the right. The expansion isn't just for show, either! Each new tile adds more paylines into the mix, thus making wins more likely. A fully expanded playing field will have 60,466,176 ways to win compared to the standard 243.
Free Spins
Collect three or more Scatters in any position to win a free spins bonus round. During the extra turns, any expanded reels will remain locked in place until after the free spins pass. That means during free spins, they can only grow, rather than resetting back to normal like in normal gameplay. And if you're super lucky, you get to retrigger free spins up to 10 times.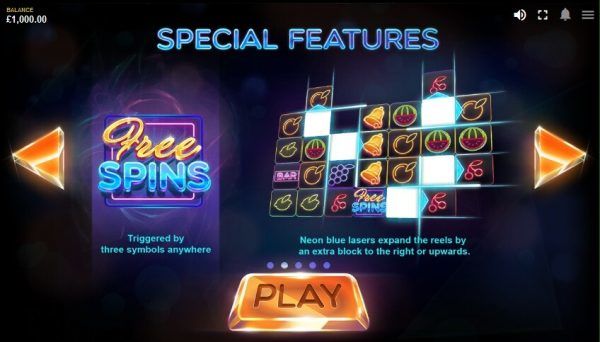 Our Verdict
While we liked the graphics, we can foresee them being a bit too simplistic for some players. We understand where that criticism comes from, and raise the greatest of counterpoints: neon just looks cool. In terms of gameplay, however, free spins and an expanding playing field are the perfect combination. Especially when the results can be oh so lucrative.
Laser Fruit Slot
was last modified:
February 24th, 2021
by