Mighty Kong Slot
Mighty Kong is a Pragmatic Play slot game released in March 2016 with a King Kong theme. Unlike Playtech King Kong slot, which was developed with Universal Studios, this is not an "official" game .
Mighty Kong slot machine features King Kong as the Scatter symbol and a party of explorers looking for him in the jungle. It's a slot with a high payout and an interesting free spins game in which you can directly choose the variance from four settings. The game has 50 paylines, and the minimum bet per spin is $0.50 while the maximum is $250.
Free Mighty Kong Slot
Base game
Mighty Kong has ten symbols: five low-paying card symbols, all of which pay roughly the same, and five high-paying symbols with characters from the movie, four explorers and the girl. King Kong appears as the Scatter symbol, and there's also a Wild in this game.
With ten symbols and 50 paylines the frequency of wins is a bit low, but a nice thing about this slot is that the potentially winning symbols are highlighted, so it's easy to notice which symbol you need on the next reel during the spin.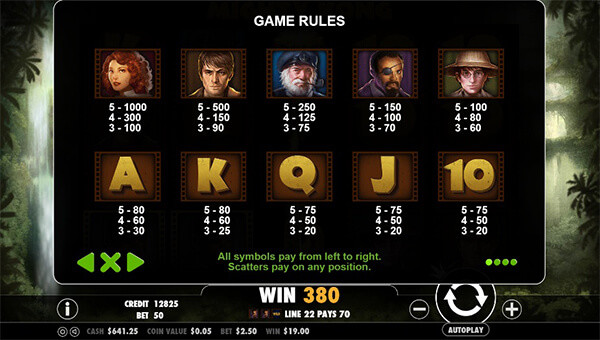 The graphics of Mighty Kong slot machine are quite nice, and it's a shame we don't get to see King Kong more often, or as some bigger symbol that would dominate the reel set, though he does make an entrance when you trigger the free spins game. Overall it's good enough, this slot game has a decent theme. The base game has a special feature which shifts the balance in your favor a bit. On reel 3, Wild expands to fill the entire reel if at least one win would result from the expansion.
Bonus features
Similar to Blood Suckers or Game of Thrones slots, you have a choice of the number of free spins and the multiplier Your choices are as follows: 40 free spins with no multiplier, 13 free spins with a 3x multiplier, 8 free spins with a 5x multiplier, and finally 5 free spins with an 8x multiplier.
Since all of these sum up to the equivalent of 40 free spins, it's just a matter of choosing higher or lower variance. With 5 free spins and an 8x multiplier, you'll be hoping for a big winning combination during those 5 free spins, which will then be seriously boosted. But it may not come, leaving you with almost anything. The 40 free spins version, however, is almost guaranteed to produce a decent win every time, but not a mega win.
Payout and value
Mighty Kong has a theoretical payout percentage (RTP) of 96.64%, which is high, and it means this slot game is worth playing. It seems to have a bit higher variance but the most important decision you can make is the number of free spins and the multiplier, once you trigger the free spins. Since this is essentially the only bonus feature in the game, it will make or break your playing session.
In any case, this slot game is for those players who are prepared to wait for free spins and who like slot games which only pay during the free spins feature.
Mighty Kong Slot
was last modified:
February 24th, 2021
by