Queen of Gold Slot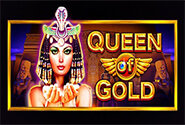 Queen of Gold slot is an Egyptian-themed Pragmatic Play casino game that does things a bit differently than other games from the genre (Cleopatra Plus, Queen of the Nile, etc). Here you'll get to manually pick symbols on your reels and if successful, you'll advance through the levels. Each level has different multipliers, with level 2 removing the 1x multiplier from the equation, and the maximum multiplier is whopping 100x.
Free Queen of Gold Slot
Base game
The most interesting feature of this game, that adds a lot to playability, is the progress game which says you must gather 5 Cleopatra symbols in 25 spins in order to advance to the next level, and if you fail to do so you're falling back to level 1. When you advance to level 2, all five 1x multipliers will be removed from the sixth reel, and a 15x multiplier will be added. This essentially means you'll be playing at least a 2x multiplier game for the next 25 spins. If you advance to the next level, five 2x multipliers are removed, two 20x multipliers added, and this will be at least a 3x multiplier game for the next 25 spins, and so on until level 6. You can also automatically progress if you land the Jackpot symbol on the sixth reel.
The key thing here is that these multipliers are also in effect for the free spins game should you trigger it, and therefore your progress in this mini-game will have a major effect on your winnings in this slot game. Already at level 3, there's some serious money involved, and level 4 is very, very rewarding. Those who manage to get this far will definitely make money from Queen of Gold, especially if they happen to trigger the free spins game while on a high level.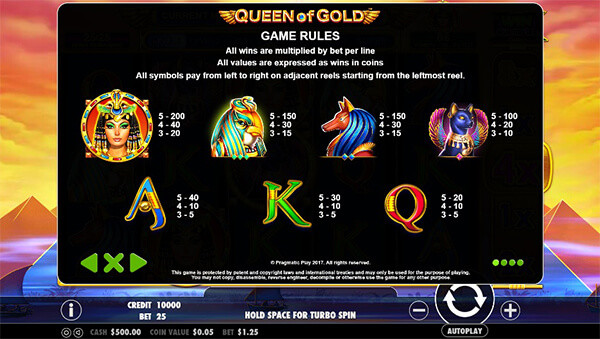 Getting 5 Cleopatras in 25 spins isn't easy at all though, it will take quite a bit of luck with choosing the right location on the reels where a Cleopatra will appear. It is possible to reach a high level, but it takes some patience and calmness during near misses, and eventually, you will reach a high level. Any bet change resets the level to 1 so make sure you have a large enough bankroll to get you through prolonged play.
There is a free spins game that gets triggered when you land three Scatters, and you'll get 10 free spins with these base game multipliers applied. It pays to play for long enough to trigger a free spins game while on a high level in the progressive game.
Payout and value
The theoretical return to player (RTP) of Queen of Gold is 96.50%, which is good enough, especially as you know you're moving away from the lowest level of pays as soon as you land 5 Cleopatras in 25 spins and then the RTP is a bit improved.
This is an evolving game, so your ability to progress quickly will make the difference between winning and losing. Bottom line it's an excellent slot, very interesting to play, and potentially very rewarding for those who have enough patience to dig up Cleopatra's treasure.
Queen of Gold Slot
was last modified:
February 24th, 2021
by