Wild Spartans Slot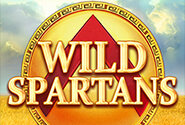 Long before Rome would ever conquer the known world and form its empire, another city-state held the title of strongest warriors. They were the Spartans, whose grand exploits were told time and again in many stories, both mythological and historical. And now, these soldiers of legend who held back the Persians with only 300 men are given the greatest honour of all. Their own video slot!
Two detailed warrior sculptures sit on each side of the board, separating it from the background image. Wild Spartans slot machine, which can be found in all Red Tiger casinos, is played on a 5-reel, 3-row playing field with 10 fixed paylines. Available special features include free spins, sticky Wilds, and Titans.
If you think you have what it takes to stand among the best sons of Sparta, we won't stop you! But make sure to give it everything you've got, or this release will mercilessly destroy your wallet!
Free Wild Spartans Slot Machine
Why to play Wild Spartans Slot
Red Tiger has been steadily improving their visuals and, currently, have some of the best looking slots in the industry. One look at Wild Spartans proves as much! The awesome detail on the statues and the picturesque background image are pretty cool on their own. And with its fantastic animations, this game cements itself as one of our favourites.
We also don't foresee this release boring us anytime soon. Despite having several special features, getting access to them takes a while. But, with the bonuses being as interlinked as they are, it's just a matter of perseverance. Until all the stars align, and several special features combine to create a mouth-watering win!
Wild Spartans also comes with a fixed jackpot just under 5200x your total stake and an RTP of 96.06%. The big top prize will undoubtedly draw lots of players hoping to score it! And with a slightly above average RTP, we have no qualms of sending them off and wishing them good luck!
Why not to Play?
One area that very obviously lags behind the rest of the visuals are the reels themselves. Unlike so many other slots, this one still hasn't opted for a transparent reel. This cuts out the otherwise cool view we get from the background image, so we're not huge fans. Symbol designs are that great either. The only saving grace is the cool animation of the sticky Wilds activating.
As we mentioned, scoring a win can be incredibly challenging at times. As a result, we don't recommend this game unless your wallet is freshly stocked up and can take a hit.
Bonus Features
There are several special features active, but none of them is overly complicated. That makes them easy to put together and use – which was likely Red Tiger's intent.
Free Spins
Collect three or more blonde girl Scatters from any position to win free spins. You don't get an exact number upon activation. Instead, there's a bit of randomness to it, depending on how the Spartan soldiers are feeling.
Sticky Wilds
Both during normal gameplay and free spins, you will often come across sticky Wilds. This release is even nice enough to give you an indicator of how many spins these Wilds will remain in place for!
Titans
There's a chance the two Titan statues on each side wake up to boost the number of spins for which the Wilds stay locked.
Our Verdict
Is Wild Spartans slot perfect? The answer is an obvious no. Like any other slot, it has its fair share of flaws. But the fun special features, the thrilling jackpot and great graphics have won us over! We thoroughly enjoyed our time playing this game, and we would easily recommend it, despite the problems we mentioned. If you're looking for something new to play, give this release a try.
Wild Spartans Slot
was last modified:
February 24th, 2021
by