Gamevy Casino Games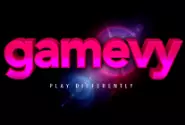 Which games the Millennials will play is the question that puzzles gambling companies directors worldwide. Everybody agree that the generation that grew up with a smartphone in their hand need something different. The current direction is Social & Skill based.
All major companies are working on developing their portfolio of new casino games, but as usual, small new companies are the fastest to respond. We can see that with Gamblit in land based casinos and now with Gamevy in online casinos.
Gamevy Slots Review & Free Play
So what so special about Gamevy Casino Games?
Gamevy, a young UK company came up with unique set of slots and other casino games which incorporate chance with skills giving player much more control over the game thus increasing players' engagement.
Now we should use the word "skill" with caution, cause not all games are really skill based. Some are, with others it more a matter of control. Sounds strange? Three examples will clarify what we mean.
Boss the Lotto
One of the first Gamevy casino games was Boss the Lotto. As you can see below, in Boss the Lotto you need to collect lotto balls without hitting the "bad" ones. The thing is that unlike in Keno or other similar games, here you can choose how far you wish to go. For example, you can settle with a $5 win or you can risk it all and go for the $5,000,000 jackpot. So unlike with familiar video slots, here you can control for volatility of the game, which is the risk vs. reward ratio.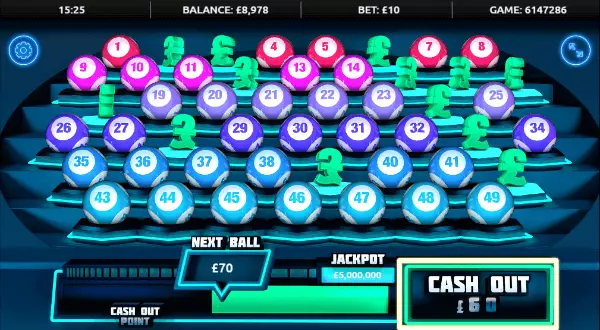 Of course this is not a completely new feature and it was incorporated in some video slots, such as Immortal Romance, Game of Thrones and others, where you pick between various free spins features. For example, you can choose 15 spins with x3 multiplier or go all-in with 5 spins and x9 multiplier. But that's still a very small portion of the game and in any way pretty much predetermined. In Boss the Lotto you have full control of what going to happen.
Anyway, this is just the first step. Now let's check Gears of Fortune.
Gears of Fortune
Now this game takes it to another level. Gears of Fortune is an actual skill based game where you need to answer quiz questions to win coins. Of course it's not just a trivia game. This is a type of Wheel of Fortune game where you can win various cash rewards in combination with trivia questions.
Unlike with Boss the Lotto, here you do not have control when to collect your winnings, which is a pity, but we assume the combination of these two unique games is just around the corner.
SpinLotto Slot Machine
The previous games can hardly be called slots, although they do have some resembling features, so here is something for our slots fans.
SpinLotto is a real video slot with one difference – you determine the winning combination. Obviously, after that, it becomes a regular slot machine, but if you believe in your ability to sense the winning numbers (personally I don't), then you will definitely enjoy this one.
Gamevy Casinos
Bussiness wise, it was a huge year for Gamevy. The signed a partnership deal with Microgaming and soon you will see Gamevy games in many Microgaming casinos. Plus the signed distribution deals with major online casinos, such as Unibet, Betsson and others.
Something that all slot players "in the house" will be happy to hear: Gamevy signed a partnership deal with Spinomenal, young slots developer, which should help them develop skill based slots (something we've all been waiting for).
Bottom Line
Gamevy is without a doubt a company that will be watching in the next few years. Their games are attractive and unique, although we sense that they haven't lived up to their potential yet. There are still many things that we would add and change. But let's not forget, the company is less than 4 years old and we believe that there is a bright future ahead.
Gamevy Casino Games
was last modified:
February 24th, 2021
by