Monopoly Megaways Slot Review and Why It May Drive You Crazy
You all know how we love Megaways slots, but we have to admit that with some of them we have a love/hate relationship. It mostly comes from the fact that they have so elaborated bonus features that getting to know them may be exhaustive. That's precisely what we felt while playing Monopoly Megaways. Some say this is the best Monopoly slot machine, and you know how many of them have been launched so far.
While we agree to a certain extent with this statement, we have quite a few problems with it, and we will try to explain why this game may drive you crazy.
First of all, it comes packed with bonus features. Whenever you hit a win, Mr Monopoly will move around the board, which can earn you rewarding modifiers. However, they won't be active until you enter the free spins feature, which we find to be a big minus for the game. So, you have action-packed gameplay, but you have to patient enough to benefit from all the features. Knowing that this is a highly volatile game paying up to 14,700x the bet, you may end up without entering free spins at all.
Let's take a closer look at the Big Time Gaming slot played at 6 reels and offering up to 117,649 ways to win to see what else you can expect from it.
Free Monopoly Megaways Slot Machine
Why to Play Monopoly Megaways Slot
Megaways and reactions. The mechanics used in all Megaways slots by Big Time Gaming provides you with additional chances of winning as reactions happen as long as you win. When it comes to Monopoly Megaways, you can win in up to 117,649 ways with new symbols replacing successful ones on any win.
Exciting gameplay and a potentially lucrative free spins feature. The game takes place on the reels and on the game board at the same time, which provides you with plenty of action. In free spins, you can win big thanks to increasing multipliers and the maximum number of ways to win in play.
High payouts. You can win up to 14,700x the bet while playing Monopoly Megaways.
Great visuals and sounds. Graphic are nicely rendered to match the theme of the game. This is a branded video slot, and we expected nothing less from it.
Above-average RTP of 96.50%.
Why Not to Play?
Keeping up with all the features may be overwhelming.
You must enter free games to benefit from modifiers earned during the base game.
High volatility may not be suitable for all players.
Bonus Features
The Monopoly Megaways slot takes you on a wild ride with all its bonus features. Besides the Megaways mechanics and the Reactions feature providing you with additional chances of winning, the slot comes packed with other features as well that can be quite lucrative.
Reel Adventure
The Reel Adventure feature provides you with an opportunity to upgrade the game. It's all about Rich Uncle Pennybags moving around the Monopoly board. If he stops on the GO spot, the maximum ways to win will be active on the next spin. The first time he lands on any Train Station, you will secure +1 free spin on the next trigger.
Utilities will increase a multiplier on the next free spins trigger, Community Chest will take him to a random property featuring up to 4 houses while landing on Chance does the same plus you receive a spin with maximum Megaways or a free spins trigger. Finally, landing on a property on the second reaction adds a house to it.
Free Spins
You can enter free spins either by landing the fifth house on a property or when Mr Monopoly stops on Chance. Initially, you will get 8 free spins, and every extra house or owned train station will add another freebie to your tally. After the first trigger, you are granted +3 free spins whenever you unlock free spins. Another feature that can enhance free spins is a multiplier, which is initially 1x, but if you own utilities, each of them will increase it by 1.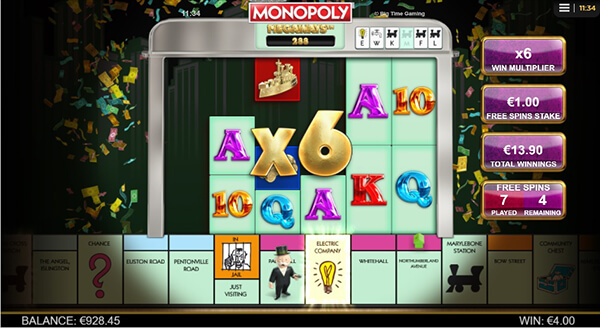 While playing free games, the multiplier will increase whenever you land a house on a property. Mr Monopoly will keep moving around the board when you hit a win within the feature. That's how you can get more modifiers that can boost your chances and payouts. Just like in the base game, they can activate all 117,649 ways to win, award more extra freebies or increase the multiplier additionally.
The end of the feature resets the game, meaning that you will not have any of train stations or utilities in ownership once you return to the base game. However, all houses on the properties Mr Monopoly hasn't visited will remain.
Our Verdict
Monopoly Megaways will definitely keep you entertained, so if you are looking for a slot where there's a lot of going on, it may be the perfect fit for you. On the other hand, all the action that takes place on the screen may strike you as overwhelming, while payouts in the base game don't reflect the gameplay.
The good news is that we managed to enter free games, so finally we reaped the rewards. The BTG title is a must-play game for players who have a solid bankroll and are ready to invest their money in a high volatility slot. Summon up your patience and be prepared to wait for a slot to reward you eventually.
Monopoly Megaways Slot Review and Why It May Drive You Crazy
was last modified:
February 24th, 2021
by