NJ Online Casinos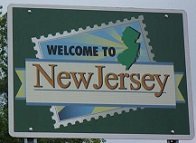 The state of New Jersey began to regulate online gambling and offer NJ online casinos and poker games to its citizens in November of 2013. NJ online casinos are now available for customers who live within the borders of the Garden State.
Best NJ Online Casinos
Here is our list of the best legal NJ online casinos:
888 Casino
888 Casino is the closest competitor to Party Casino. If Party is the most famous gambling site in US, 888 is the most popular online casino worldwide. These days they offer NJ online casino players $10 Free to try them out. Hurry up and take advantage of this time limited opportunity.
P.S. 2 days after 888 Casino reached our #2 spot,
888 issued their quarterly report
. There is one interesting parameter in those reports and it's the number of active players. During the past 12 months, the number of active players rose by 16 pct, which reaffirms our verdict that 888 doing things right and keeps the player happy and satisfied.
Claim your $15000 Bonus at 888 Casino
Party Poker Casino
Probably the most popular online casino and poker room. Was forced to leave the US market due to UIGEA law. Now, 7 years later, it reopens its doors to NJ players. Unlike some NJ online casinos that just recently added online services and they are still in the middle of the learning process, Party Casino knows it all: smooth design, user friendly interface, professional support, great welcome bonus. If you wish to play NJ online slots or any other casino game – this is the place to start. Party casino is also available on mobile through Party Casino mobile app.

Claim your $750 Bonus at Party Casino
New Jersey Online Gambling Sites
The existence of legal New Jersey online gambling sites is further proof that NJ is one of the most liberal states in the country in terms of its gaming law – at the time of this writing, the state is in a battle with the federal government over interpretation of the Federal Wire Act in an attempt to offer fully-regulated sports betting sites as well.
The main benefit of the new regulated NJ Internet gambling market is that New Jersey citizens can play at Web-based casino websites without any fear of recrimination on the part of the government. Though US laws intended to make Internet betting illegal exist, they're generally toothless. State law is much more important to the life of the average online casino gambler, and now that New Jersey online casinos are legal at the state level, citizens of the state can play their favorite casino games without worrying about running afoul of the law.
Online gamblers who live in New Jersey can still access non state-licensed gaming sites, as some casino websites made it through the 2006 UIGEA nightmare and are still able to accept Americans as players, but it is far better for someone living in Atlantic City or Newark to log on to a state-licensed nj online casinos. Avoiding potential legal problems in the state of New Jersey simply means choosing to play roulette, blackjack, and online slots at a NJ-licensed online casino.
The Garden State has a long cultural familiarity with gambling, going back to colonial days, when lotteries were used to raise funds for state and municipal projects and to pay government workers' salaries. New Jersey is also home to Freehold Raceway, the oldest continuously operating race track in the country, featuring horse racing since the early 19th century. It's difficult to overlook Atlantic City's casino strip, once the second-largest in the country outside Vegas now finding itself challenged by new gambling jurisdictions in the south and nearby states.
So it should come as no surprise that New Jersey-based companies are now able to provide games like craps and video poker over Internet connections to people who live in the state. Governor Chris Christie is the driving force behind the Internet gambling regulation bill and another one that would regulate sports betting, seeing a huge financial upside and not much of a risk to the state's taxpayers.
The bottom line – the state of New Jersey now offers legal and state-licensed games of chance and skill. Citizens of the state should take advantage of the rare position they find themselves in as Americans with full legal access to Internet casino games.
NJ Online Casinos
was last modified:
February 24th, 2021
by