Jackpot Keno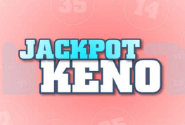 Jackpot Keno is a variation of the popular game developed by Genii Gaming. These guys are one of the most dominant Keno developers with 5 different online Keno games in their portfolio.
This game is perfect for those looking for a low volatility game and long play time. The unique part here is that unlike other variations, such as the RTG or Microgaming ones, here you get the best winnings odds while picking 2-5 numbers and not the common 11-15.
Free Jackpot Keno
Gameplay
Jackpot Keno has nice features and visuals. It's somewhere in the middle between very simple, old fashioned games and the new shiny ones. There is no auto play option, but there is a turbo mode instead. However, we recommend most players not to use it. It makes the play a bit too fast and can make you loose big shanks of your balance in minutes.
Rules and Odds
This is a standard 80 ball keno with up to 15 picks and 20 draws. The minimum bet here is 10 cents and goes up to $20.
In terms of winning odds, the best odds are for 3 picks – 95.81% which is superb, followed by 2, 4 and 5 picks – all stand above 95%. Obviously you don't have to restrict yourself to just those options, especially if you wish to try your luck winning the biggest jackpot, but we recommend you to avoid playing 1, 11, 12 picks due to their low payouts.
In general, if you are looking for long play time and frequent (smaller) wins – then you should go with 2-5 picks. If the possibility to win the big prize is what makes your blood boil, then 13-15 is the best option.
Payouts by Number of Picks
| Number of Picks | Winning Odds |
| --- | --- |
| 1 | 87.5% |
| 2 | 95.1% |
| 3 | 95.8% |
| 4 | 95.6% |
| 5 | 95.1% |
| 6 | 94.7% |
| 7 | 93.7% |
| 8 | 94.8% |
| 9 | 94.8% |
| 10 | 94.1% |
| 11 | 89.7% |
| 12 | 89.5% |
| 13 | 92.0% |
| 14 | 89.7% |
| 15 | 90. 0% |
Jackpot Keno
was last modified:
February 24th, 2021
by