Keno Pop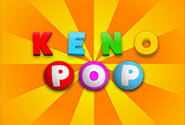 Keno Pop is powered by 1×2 Gaming, a UK studio proficient at games with fixed odds, virtual sports, table games and arcade games. They have released several keno variations, including Kenolab, Firefly Keno, Kenotronic, Tutan Keno, and Keno Kick Off.
Keno Pop is a real cash lottery-based game that you can also play for free. It is pretty much a basic game of keno, without the visual appeal of themed keno games such as Kenolab or Tutan Keno. Keno Pop does feature a party style and has balloons that pop as the numbers are drawn, so it feels less like lottery and more like an arcade fun game you can make some money on.
*To play the free game, please allow Adobe Flash.
Free Keno Pop Game
How Many Picks to Play?
Just like all the other 1×2 Gaming keno products, Keno Pop is an 80-ball game. In each round, 20 balloons will pop (20 numbers will be selected), but the players need to select up to 15 of the 80 numbers in the game. By selecting more or fewer numbers, bettors play at high or low volatility at their choice.
Selecting more balls means there will be higher risk involved, but the rewards are also higher. Picking out 5 numbers involves a modest payout, whereas pick of 12-15 are sizeable amounts. Keno Pop has an RTP of 87% which goes up to 94% depending on the matches you get. So if you play it right, meaning going for the optimal number of picks which is 2-10 (see table below), you will get one of the best payout keno games you can find online.
The top prize of party-style Keno Pop is set at 10,000 coins. For an arcade game, that is an impressive payout.
| Number of Picks | Winning Odds |
| --- | --- |
| 1 | 87.5% |
| 2 | 95.1% |
| 3 | 95.8% |
| 4 | 95.6% |
| 5 | 95.1% |
| 6 | 94.7% |
| 7 | 93.7% |
| 8 | 94.8% |
| 9 | 94.8% |
| 10 | 94.1% |
| 11 | 89.7% |
| 12 | 89.5% |
| 13 | 92.0% |
| 14 | 89.7% |
| 15 | 90. 0% |
Keno Pop
was last modified:
February 24th, 2021
by