Kenolab Game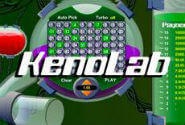 Kenolab is a relatively standard Keno version developed by 1×2 Gaming. In terms of rules and payouts, it's exactly the same as their Jackpot Keno and Keno Pop, just with different design and layout. It can be one of the best keno games in terms of payouts, but only for specific number of picks.
Below you can play free Kenolab, if you wish to play real for real money, please check the payout table below. In this game, making the right number of picks will highly increase your chances of taking some money home.
Free Kenolab
How Many Picks to Play?
As you can see from the table below, your winning chances vary a lot based on the number of picks you make. Obviously, we are playing cause we enjoy the game and you shouldn't change your preferences just to increase the lifetime payouts by 0.3%. But you should consider making minor adjustments.
For example, players that like to go for the big jackpot with high number of picks, should consider going for 10 or 13 picks. Players that are looking for small payouts will do best by picking 4 or 5 numbers.
Of course, we are speaking only for Kenolab; in Cleopatra Keno, Super Keno or even a different version of the standard Keno game, the payouts go in a slightly different way and you should check the odds of that particular game.

| Number of Picks | Winning Odds |
| --- | --- |
| 1 | 87.5% |
| 2 | 95.1% |
| 3 | 95.8% |
| 4 | 95.6% |
| 5 | 95.1% |
| 6 | 94.7% |
| 7 | 93.7% |
| 8 | 94.8% |
| 9 | 94.8% |
| 10 | 94.1% |
| 11 | 89.7% |
| 12 | 89.5% |
| 13 | 92.0% |
| 14 | 89.7% |
| 15 | 90. 0% |
Kenolab Game
was last modified:
February 24th, 2021
by