Krazy Keno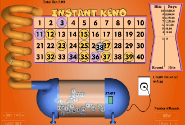 Keno variations have one thing in common, and it's that they offer Keno players opportunities to increase their winnings over traditional Keno payout amounts.  Krazy Keno is no different.
Krazy Keno is one of several new formats that have emerged with the coming of video Keno.  Video Keno is a lot like a lottery on steroids, and is quite popular with video slots players who are looking for some new experiences.
Unfortunately unlike Caveman or Cleopatra Keno games, which indeed offer something special, when it comes to Crazy Keno, there is nothing really crazy about it. It's just a regular game, with a fancy name. See of yourself. And if you don't like it much, you can enjoy other free games or find out where to play real money keno online.
Free Krazy Keno
Video Keno Has Really Expanded the Potential of Keno
People who enjoy playing video gambling machines tend to have a higher need for variety than other types of gamblers. Knowing that, software developers continually turn out new games to look to keep these players satisfied and coming back for more.
So when this industry turned their attention to Keno, it's no surprise that this not only brought some great new graphics to the table, it also saw several new variations of the game created, including Krazy Keno.
With the ability to play Keno on demand, in a video game setting, with the speed of video slots, when you add in the extra fun that bonus payouts add, it's no wonder that Keno variations like Krazy Keno are a big hit.
Playing Crazy Keno
Krazy Keno is one of the lesser known new variations of Keno, and perhaps part of the reason why it hasn't caught on as much as some other variations is that it "only" doubles Keno payouts, as opposed to anywhere from 4 times the payout to 10 times the payout that some other variations offer. You still get a shot at doubling your money and that's certainly better than just getting standard payouts with standard Keno.
So Krazy Keno proceeds exactly like regular video Keno does, where players select between 2 and 10 numbers, out of a pool of 80.  20 numbers are then drawn and players receive payouts for hitting a certain number of their selections, according to the payout table used by the machine.
Krazy Keno Strategy
After the 20 numbers are drawn, if the player has bet the maximum 4 credits, a bonus ball is drawn, and if the player has already achieved a payout, and the bonus ball matches one of their selections, their payout is doubled.
So if you are playing Krazy Keno, naturally you want to always bet 4 credits, and this is one of the reasons behind the bonus ball, to get you to do exactly that.  If you bet less than 4, you don't get the bonus ball, and then you have to wonder why you're playing Krazy Keno in the first place, as the pay tables do take the bonus ball into account, and you'd be the one that would be crazy here.
As far as how many numbers to do with, like many Keno variations, you don't want to just pick two numbers, but anywhere between 3 and 20 is fine, and the payouts are similar.
Krazy Keno
was last modified:
February 24th, 2021
by